Jun
6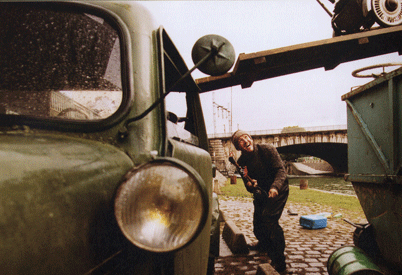 Hey all, Pip here, long time no see!
This little happy gem of a movie is brought to us by Jean-Pierre Jeunet: the genius behind everyone's favorite Le fabuleux destin d'Amélie Poulain (or just Amelie for us). This film takes place in that same fantasy world. In fact it is so fantastical, the eye of the camera is so free, it's closer to an animated film most of the time than anything. The story is pretty simple, and somewhat melancholy in its setup. A boy loses his father to a landmine, the army even sends a picture of the landmine with his father's personal effects. After his mother loses her mind, he is sent off to boarding school where he escapes and we find him thirty years later miming every word to old movies and working in a video store. A miraculous accident happens and he's shot in the head, yet survives with the bullet still lodged in there. Due to the logos of both weapons manufacturers being right there on both the landmine and the bullet casing, he one day comes across both of the companies and they happen to be right across the street from each other. So starts his journey to get revenge for his life, so shattered by both of these companies.
He finds himself adopted by the cast of this film, and each has their own unique way of helping. I could write a paragraph for each character and then some, that's how alive everyone was. Even if they had very little screen time relative to others, each made their mark. Dany Boon and Julie Ferrier both steal the show with their leading parts. Dany plays Bazil, the simple man who is shot in the head and seeks revenge. He is simple, but not simple-minded in spite of your first impression of the man. He, after all, is the mastermind behind one of the best revenge plots I've seen. Do you remember the scenes in Amelie where she was sneaking into the mean vendor's apartment trying to make him go crazy? It's like that. Julie Ferrier is a contortionist that has a bit of a crush on Bazil, who is clueless at first of course, and wants to be a part of the plan no matter how dangerous and manly the mission. My absolute favorite part of the movie: that there was in fact a Plan B.
The bad guys were really bad, in their own legal way. At first they are just normal CEO types, but the more we get to know them, the more we get to see their true colors. Some of the scenes were very intense, Rachel almost had to hide a few times!
The film is whimsical when it wants to be, scary and serious when it wants to be, and cute as a button just about all the time. The world is what France is like in my head I think, having never been there in person. I thoroughly enjoyed everything from start to finish, and I look forward to seeing it again. I hope it gets wider distribution soon, so if it comes even within a long hike from you – I highly recommend it!
Comments