Jan
23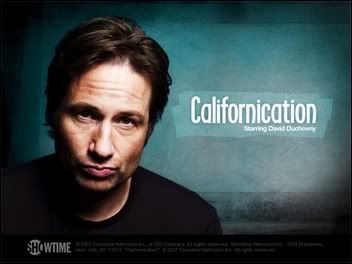 Californication: imdb /season 1 preview
Hey folks, Pip here. Since Duchovny won a well deserved "Golden Globe Newsletter Award" for his role as Hank Moody, we thought a little shoe polishing was in order. This show is basically, in a nutshell, the whole reason to pay for Showtime when it was running, for season 1 has since finished. Granted, there are copious amounts of beautiful naked women gloriously sprawled about, but I'll tell ya that's like the number three reason to watch! Seriously!
All kidding aside (seriously guys, beautiful and naked) the show deserves all the praise it's gotten to date including the Golden Globe. Duchovny is spot on perfect as the artist who had everything and lost it all and then some. His depressing adventures seem like he's going through the motions of what a hugely successful author should be doing in the city of angels. He likes this place as much as I do, plastic smiles, sunshine, sports cars and all. Not only has his heart and soul been torn apart by Hollywood by way of a terrible silver screen adaptation of a seemingly glorious novel, but his other heart and soul has been ripped out because he's just too damn smart for his own good.
Really this show is about Hank and the women, including of course the two closest to him, his ex-wife and his daughter. Most of the time there's a new sex interest each episode, but it's far from sexy when you get down to it. It's similar to watching a train wreck, with a depressing factor of 5.0 on the Fujita Scale. Really, the entire time you see just how good a couple his ex-wife and he were once upon a time and how much you so desire them to get back together. At the same time, through a few flashbacks, you see what a clusterfuck Hank made of just about everything. He really does mess everything up mostly because his mouth works faster than his conscience, but that conscience has a heart of gold once you get passed the alcohol on his breath.
I have high hopes for Californication's future and I hope it will not follow the path of most other series, but I can see that it may overstay its own welcome if it goes on for too terribly long. The first season was almost perfect enough to just let it lie as it is so everyone can bow out with grace and dignity. I hope one day I don't regret that they ever made a second, or more seasons.
---
Hey everyone! Rachel here and I just wanted to add how much I love this show, it is seriously one of my favorite shows on television to date. I can't wait 'till the second season which is set to premiere this summer. But not only is this show well written it also has a pretty cool soundtrack to accompany. And I thought I would share one of my favorite songs from
Temptation Volume 1
a cover of
Elton John's
,
Rocket Man
:
mp3: Rocket Man – My Morning Jacket
Temptation Volume 1 available on iTunes
Comments