Jan
5
Yeah you read that right. Pip here, and it's time for my film list. I'm not a professional critic, nor do I fancy myself an amateur critic, but I like talking about movies, so that's what I do. That said, I don't have the luxury of seeing every single film that comes out, I'm lucky if I get to see a few dozen. I tend to see the films that I know I'll love, which is why I sometimes come off as loving everything I see. I've just come to know what to look for I suppose. This is why when I'm surprised or a film goes beyond my expectations, I transform into a film geek of epic proportions, girlish squeal and all.
My original list for 2006 is here, but at the time I hadn't seen my favorite film that came out that year – along with a few others – so I will quickly and without explanation list my final Top 10 of 2006.
1. Children of Men

2. The Fountain

3. United 93

4. The Departed

5. Little Miss Sunshine

6. Pan's Labyrinth

7. Marie Antoinette

8. Casino Royale

9. Superman Returns

10. Borat
So my 2007 list is stunted much like my 2006 list was before this correction. I foresee each of my yearly lists beginning with the year previous' final tally, but that's ok! I have yet to see many, many great films that came out in 2007, so I'm not going to do a top 10. Only seven films were really good enough to make my list that I've seen so far, and here they are.
7. The Bourne Ultimatum

A film trilogy that goes against all logic and gets better and better as they go. This is really how I wish all action films were. Smart, ruthless and relentless as hell. Unfortunately I did not get to see this in theaters, but my new home theater is just as good! Better even since it's comfortable and there's beer here. Anyway, yeah, great film and I hope it ends the trilogy. If they keep going I fear they'll loose the magic.
6. Ratatouille

I'll admit it, I'm a total Pixar fanboy. I love everything they do with such fervor, I wonder if it's too late to become a brilliant genius animator to go work for them. Have you seen their company HQ? It's like going to heaven… wonderful, geeky heaven. Anyway, even normal people loved this film. Not only did it keep a theater full of children quiet and in their seats the entire duration, but the adults left fulfilled which most grown-up flicks fail to do. Tis the magic of Pixar.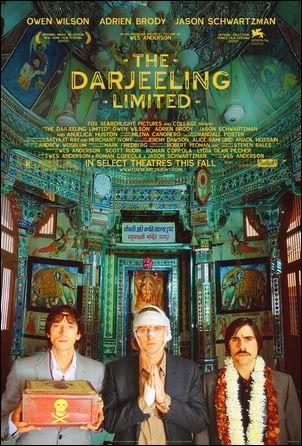 5. Darjeeling Limited

This was the year of fanboy love for me, I tell ya what – there's much more to come! It's almost heartbreaking seeing this film in the #5 slot, but man the flicks we're about to get to are just that good. This films only failing was its hectic nature, which I'm sure was intentional, but it just felt… well like everyone was on cocaine. Am I the only one that felt that way? Probably… anyway, #5 on my list is no laughing matter, still an amazing film.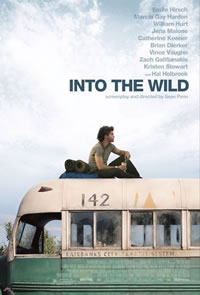 4. Into The Wild

This was the greatest surprise for me since I had almost no expectations walking into it. Still to this day triggered the longest post-theater conversation of any film I've seen this year. Many emotions still whirl around the characters and goings on in this film, the mark of a great one. Any other year and this could have made it into the first slot.
3. Juno

I knew I was going to love this film when I saw the trailer ages ago. I just didn't realize how much. I've been telling everyone I know to go and catch it, it's something just about anyone will like and that's saying something. In fact, if you haven't seen it, then go right now!
2. There Will Be Blood

I'm still working on the review for this masterful epic, and I was really conflicted between the first and second slot. I think I liked my favorite working filmmakers' latest more as more time passed from my first viewing. I will be seeing it again, probably not in theaters, but when I do it may just take the first place mark for the year. Only time will tell.
1. No Country For Old Men

I think the Coen Bros. are perhaps my other favorite working filmmakers. It's like choosing children! Anyway, this film is absolutely perfect in every way, shape and form. I could not have asked for more. Even though I was primed with what was hailed as the greatest Coen Bros. film, I was not disappointed. Bravo, you two, bravo.
So come next December I'll update and tweak my list a bit more here and there. I have a lot of work cut out for me to catch up, that's for sure. I suppose there are worse things in life.
Comments