Nov
3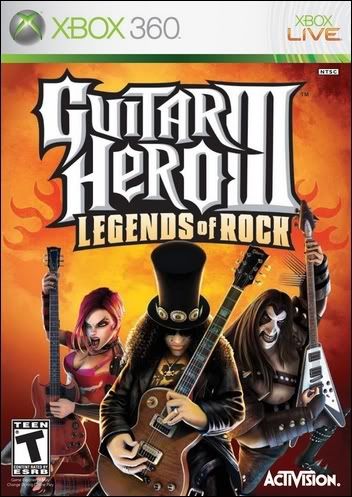 Last weekend Guitar Hero III finally came out…Weee! I was quite excited to say the least, new songs, wireless guitar and the ability to play online against others? I was sold. The graphics have a bit more bite to them as well…All in all I am pretty happy with this version and basically the ability to play online against others definitely makes this version an improvement.
The set list (single player career mode):
1. Starting Out Small

* "Slow Ride" – Foghat
* "Talk Dirty to Me" – Poison
* "Hit Me with Your Best Shot" – Pat Benatar
* "Story of My Life" – Social Distortion
* "Rock and Roll All Nite" – Kiss (Encore)
2. Your First Real Gig

* "Mississippi Queen" – Mountain
* "School's Out" – Alice Cooper
* "Sunshine of Your Love" – Cream
* "Barracuda" – Heart
*Â  Guitar Battle vs. Tom Morello (Original Composition)
* "Bulls on Parade" – Rage Against the Machine (Encore played with Tom Morello)
3. Making the Video

* "When You Were Young" – The Killers
* "Miss Murder" – AFI
* "The Seeker" – The Who
* "Lay Down" – Priestess
* "Paint It, Black" – The Rolling Stones (Encore)
4. European Invasion

* "Paranoid" – Black Sabbath
* "Anarchy in the U.K." – Sex Pistols
* "Kool Thing" – Sonic Youth
* "My Name Is Jonas" – Weezer
* "Even Flow" – Pearl Jam (Encore)
5. Bighouse Blues

* "Holiday in Cambodia" – Dead Kennedys
* "Rock You Like a Hurricane" – Scorpions
* "Same Old Song and Dance" – Aerosmith
* "La Grange" – ZZ Top
*Â  Guitar Battle vs. Slash (Original Composition)
* "Welcome to the Jungle" – Guns N' Roses (Encore played with Slash)
6. The Hottest Band on Earth

* "Black Magic Woman" – Santana
* "Cherub Rock" – The Smashing Pumpkins
* "Black Sunshine" – White Zombie
* "The Metal" – Tenacious D
* "Pride and Joy" – Stevie Ray Vaughan (Encore)
7. Live in Japan
* "Before I Forget" – Slipknot
* "Stricken" – Disturbed
* "3's & 7's" – Queens of the Stone Age
* "Knights of Cydonia" – Muse
* "Cult of Personality" – Living Colour (Encore)
8. Battle for Your Soul

* "Raining Blood" – Slayer
* "Cliffs of Dover" – Eric Johnson
* "The Number of the Beast" – Iron Maiden
* "One" – Metallica
*Â  Guitar Battle vs. Lou (The Devil Went Down to Georgia – Steve Ouimette)
* "Through the Fire and Flames" – Dragonforce
___________________________________________
 I thought I would post a couple of my favorite songs that are loads of fun to play…And I highly recommend checking out this game yourself either at your local Best Buy or a friend's house…You will be hooked in no time. Happy Saturday!
mp3:Â  My Name Is Jonas – Weezer
Weezer (Blue) 1994Â  (Geffen Records)Â  GET IT
mp3:Â  Paint It, Black – The Rolling Stones
Comments