Oct
26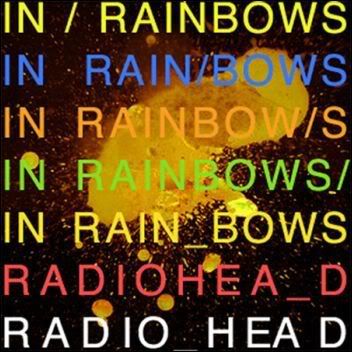 Now that the dust has settled a bit on In Rainbows lets discuss…I will start off saying that Radiohead is not perfect in my mind, Pablo Honey is a great debut but I don't listen to it regularly and Hail To Thief is really not one of my favorites by any means. So don't get me wrong I am not going to sit here and stroke Radiohead's dick or anything…Alright maybe a little…
When I got home from work on that Wed. I downloaded In Rainbows immediately, as I had to wait all day to hear it because I was late to work in the morning and was unable to download it before I left. I couldn't wait to hear the album…And then I listened to it over and over again and took little breaks in between and then listened to it over and over some more.  Because Radiohead is one of those bands where you have to give their music a little time, it is not love as soon as you hear it. Their music grows on you and sometimes it takes weeks and at times even years I think. For example when I first heard Kid A I hated it (I know can you believe it?) but then I gave it another chance years later and it has become one of my favorite albums of all time.
I was intrigued to say the least when I first listened to In Rainbows…The first two tracks are funky rhythmic gems and then the album slows down in pace a bit, sucks you into it's world and personally for me I am lost by the time All I Need comes into play…
Now what have Radiohead done differently from that of Hail To Thief? In one word In Rainbows is unpredictable it is a funky jazz infused alternative rock album that only Radiohead could make. It doesn't sound mainstream like Hail To Thief did, in fact I think In Rainbows leans in the direction of Kid A, but it is just not as ground breaking. But it is beautiful and unique and there isn't a song on the album I don't like…I continue to listen to it over and over all the way through from 1 to 10. It makes me fucking happy, puts a big smile on my face and I can't wait till the box set comes out in December and I can't wait to see them sometime in 2008.
2 of my favorite tracks off the album…
mp3:Â  All I Need
mp3:Â  Reckoner
In Rainbows 2007
Album only available HERE
P.S. My Playtagger tags are not working and I don't know why so please be patient. The songs are still there though just click the link to play in your music player or right click the link to save. Thank you!
Comments