Oct
7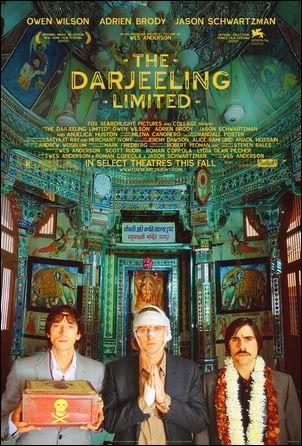 Directed by: Wes Anderson
Starring: Three chaps pictured above
I suppose I should preface this mini-review by explaining my love for Wes Anderson. It is total… it is complete… it is with all my soul. I discovered him thanks to an old friend several years back when he sat me down and made me watch Rushmore. It was love at first sight, gushing, adoring love for the creator of that little world. We then discovered his past filmography, we tracked down Bottle Rocket (not an easy feat at the time), watched it and allowed my feelings to become solidified. It was so bad if I was in school and had a notebook, it would be graffitied in blue ink in huge "Slayer" font. I heart Wes Anderson. The first Wes film I saw in the theater was Royal Tennenbaums and I must admit at the time I was unsure if I liked it or not. Now, I think it's my favorite to date. Strange how they grow on you – I hear this is not an uncommon event. My theory about Tennenbaums is simply that I wasn't ready for it. When Zissou came around, I sure was and I ate that up like fresh brownies.
On a side note, my favorite sweet (which I only really like three sweets total) is brownies, so if you're planning on sending in money for site maintenance, send brownies instead.
It was time for a new Wes Anderson film. I think you'll be surprised when I say that my hetero-curiousity toward the skinny bastard remains, and in fact gets a layer deeper. The story is simple, as are most of his films on the surface, three brothers are going on a journey into India after not talking to each other since their father's funeral. Like all of his films, it's the details and character depth that make up the magical equation. Rach made the comment that the film was pretty random, I'd have to agree to a point. The film has a hectic nature to it, always moving forward like a shark… or… a train. But as soon as their itinerary gets off schedule and when they're not looking for it, that's when their true journey begins. I think, too, anyone with more than one brother is going to really feel this one. I have three sisters myself, but sometimes I treated them like brothers by beating them up and whatnot, so I think I have some idea. There are many moving moments in this one, some shocking, some hilarious, but all ring true in the Andersonion universe.
Not to be confused with the other god-like Anderson, that review is coming in a few more weeks.
I'm scared though, really. There are maybe four directors or writers that can go through a long career without stumbling once constantly bringing greatness and near perfection out onto the screen. Odds are against Wes that someday he's going to make a bomb. For some people, that bomb has already happened. Bollocks I say upon thee, he's only given birth to beauties, this one is no different. If you're like me and have loved everything he's done, why are you reading a review about it? Just go see the damn film. If you haven't liked his past two films, skip this one and save your money. Go see Heatbreak Kid instead, probably more up your alley.
Don't forget before you go to the theater, go download Hotel Chevalier from iTunes… it's a prologue of sorts, plus there's a few extra laughs in the film if you see it first.
Comments