Jun
18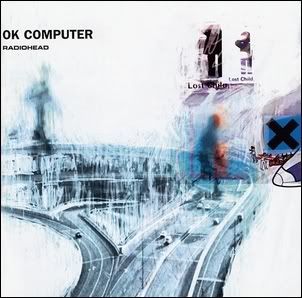 So I am a day late posting a Father's Day post, I hope all the Father's out there had a wonderful day. I kept myself pretty busy this weekend, which was good…And as some of you know my dad was the one to introduce me to Radiohead and since June 16th was the official 10th anniversary of Radiohead's Ok Computer I thought this would be a good time to share a couple of tracks off this celebrated album. Ok Computer proved that it was possible to mix electronic textures with soaring guitars and still delight "rock" fans everywhere. This 3rd full length album demonstrated Radiohead's ability to reinvent their sound, something which they continue to do album after album, this is just one of the reasons why I love them as much as I do.
Also on June 13th Radiohead made news after Ed posted a little ditty on Dead Air Space about their highly anticipated new album saying, "Yes I know its been a while ….. but we've been working on this album for a while …… BUT WE ARE NEARLY THERE ….."
What does nearly there mean? I have no idea but good things come to those who wait…So I'm waiting…Anxiously. Cheers!
mp3 Expired: Let Down
mp3 Expired: No Surprises
Ok Computer 1997 (Capitol Records) GET IT
Comments