May
23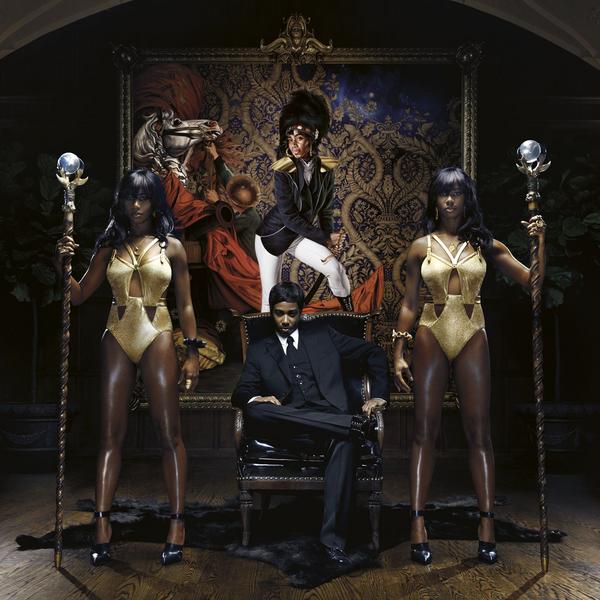 It has been awhile since Santigold released an album. Four years actually, and back then she spelled it Santogold. However, you will never hear me bad mouth an artist because they took too long to release an album. Look at Portishead, or look at my beloved Alexi Murdoch. He takes his sweet time in between albums. It is risky though in this world where there is a new gadget every day and the blog-o-sphere is quick to jump to the next new and interesting band so fast you barely have time to enjoy what you like right now. Master of My Make-Believe hit me right from the start, upon first listen I was already hooked. Her range is so varied that you hear so many great influences you never imagined could be mixed together and work. Santi makes it work and makes it her own.
The album starts out with an aggressive stomping reggae beat mixed with a dirty indie rock influence by the one and only Karen O. Then one of my favorite tracks, Disparate Youth, a heavily influenced island beat blended with a little indie dream pop. The chorus sings, Oh-ah, Oh-ah/We know now we want more/Oh-ah, Oh-ah/A life worth fighting for. So good.
There really isn't a song on the album that I don't like or that I find myself skipping through. Santi White is inspiring. She has just the right amount of attitude, but also has this soft gentle aura about her which gives her the ability to blend her musical tastes and create her own distinct sound. Her sophomore album is in no way a disappointment for me. The only fear I have is that I like it so much that I might kill it and it won't stand the test of time like her debut album has. I just have to remember to take breaks from my favorites every now and again for the sake of our relationship.
Master of My Make-Believe 2012 (Atlantic Records)
don't look ahead, there's stormy weather
another roadblock in our way
but if we go, we go together
our hands are tied here if we stay.

oh, we set our dreams to carry us
and if they don't fly we will run
now we push right past to find out
oh how to win what they have lost

oh ah, oh ah,
we know now we want more
oh ah, oh ah,
our lives worth fighting for
oh ah, oh ah
we know now we want more
oh ah, oh ah
our lives worth fighting for.

so let them say we can't do better
they have the rules that we can't break
they want to sit and watch you wither
their legacy's too hard to take

oh, we set our dreams to carry us
and if they don't fly we will run
now we push right past to find out
oh how to win what they have lost.

oh ah, oh ah,
we know now we want more
oh ah, oh ah,
our lives worth fighting for
oh ah, oh ah,
we know now we want more
oh ah, oh ah,
our lives worth fighting for

in their heads, edge in their beds
in their eyes it shows
when the beacon breaks, well then you ask and they don't know
oh tell me that, i turn my back, well the odds all stand beneath me
and they all said, i was mislead
and now the odds all stand beneath me

oh ah, oh ah,
you're frozen to your core
oh ah, oh ah,
our lives worth fighting for

oh, we set our dreams to carry us
and if they don't fly we will run
now we push right past to find out
oh how to win what they have lost

oh ah, oh ah,
we know now we want more
oh ah, oh ah,
our lives worth fighting for
oh ah, oh ah,
we know now we want more
oh ah, oh ah,
our lives worth fighting for